CONGRESS NEWS
•
Click Here
to Download EPHAR 2016 Final Program Book •
•
Click Here
to Download EPHAR 2016 Post Congress Book •
Dear Colleagues,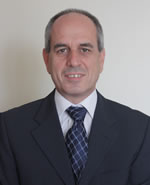 It is a great pleasure for me to invite you to Istanbul, Turkey for the 7th European Congress of Pharmacology in 26-30 June 2016. The Congress will be hosted by the Turkish Pharmacological Society. The members of the society, the Local Organising Committee and the Scientific Committee are taking great care to design a programme that combines hot topics in pharmacology. The congress web site "
www.ephar2016.org
" is active and all the announcements will be available through this web page. Abstract submission module has already started.
Turkish Pharmacological Society, established in 1966, is a rapidly expanding community looking forward to having international scientific and social collaborations. Our 23rd national meeting, held in Ankara between 7-10 September 2015 welcomed more than 300 delegates. 2016 will be 50th anniversary of our society, and it is going to be a great pleasure for us to celebrate both events together in Istanbul.
The 7th European Congress of Pharmacology will take place in Military Museum and Cultural Center, located in the heart of the city. This modern congress centre with easy transportation offers convenient facilities such as meeting rooms for ongoing parallel sessions allowing you to select your favourite topics, exhibition hall for poster sessions and companies, and networking places to meet with your colleagues.
Istanbul is the biggest city in Turkey, located in the north-western part of the country, with a pleasant climate in June. Istanbul is a real must see destination with many unique features, easily accessible by hundreds of direct flights from many countries. It is the only city in the world to connect two continents-Europe and Asia. Istanbul, which has been a capital for centuries, embraces many historical and cultural beauties of Turkey including ancient and modern attractions.
On behalf of the Organising Committee, I welcome you to Istanbul for a great meeting to exchange knowledge between basic and clinical fields of pharmacology throughout the World and to share good times.
EPHAR 2016 Istanbul shall not to be missed! Will you join us?
Öner Süzer
Congress Chair EPHAR 2016